The Personalize Hem A App
Use the Personalize Hem A App to keep track of the information that's most important to you. The app allows you to manage your favourite content from the website to make sure it is always easy to find. Use the app's electronic diary to record key milestones in your health and fitness journey. You can also allow the app to view health and fitness data that you have been tracking on your device and compare that data to your milestones.
Turn on notifications to remain up-to-date and find out when the latest content is available. Get expert tips and personal stories delivered right to the palm of your hand, just a click away.
With the self-assessment tool built right into the app, you will have it ready to share with your healthcare team at your next visit.
The Personalize Hem A app has been developed with the support of Takeda Canada Inc. Takeda is here to support you and your entire healthcare team.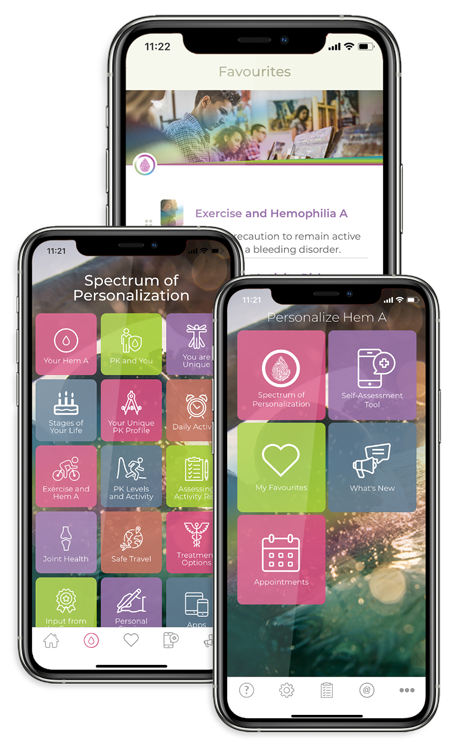 Apps to help personalize your treatment
Web-Accessible Population Pharmacokinetic Service – Hemophilia (WAPPS‑Hemo)
myWAPPS is free and easy to use. As a mobile companion to the Web-Accessible Population Pharmacokinetics Service – Hemophilia (WAPPS-Hemo), myWAPPS enables you to track your pharmacokinetic (PK) tailored regimen and view your factor concentration level at any time, online or offline.
This app can be used regardless of what product you use to manage your hemophilia A.
With myWAPPS you can:
Track and record your infusions
Receive reminders when it is time for an infusion
Monitor your own factor levels
Receive notifications when factor levels drop to a 'warning zone'
To register on myWAPPS, you must have a PK report completed on www.wapps-hemo.org by your treating physician. Please contact your doctor for more information.
myWAPPS is connected to MyCBDR, a patient/caregiver bleed and infusion reporting app connected to the Canadian Bleeding Disorder Registry. An infusion reported in MyCBDR instantly updates factor levels in myWAPPS.
For more information, please visit www.mywapps.org.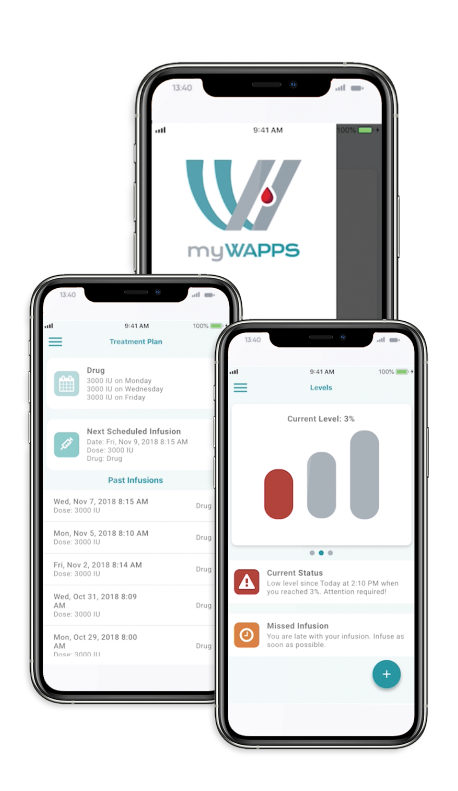 MyCBDR
MyCBDR is available for patients who are on home treatment and/or caregivers who support these patients. It is linked directly to the Canadian Bleeding Disorders Registry at your treatment centre.
MyCBDR is a fast, easy, and secure way to:
Record bleeds and treatments
Share this information with your healthcare team
Manage your home inventory of factor concentrates
Keep an easy-to-see record of your own healthcare
MyCBDR allows you to view and print reports about your history of bleeds and product use. You can also send messages, photos and documents to your healthcare team.
For more information, please visit www.hemophilia.ca/mycbdr.
myPKFiT
myPKFiT is a personalized app that uses your observed blood levels to estimate real-time FVIII levels in your blood, and minimize how much hemophilia A affects your plans and activities. You can use myPKFiT to help you, together with your healthcare team, make informed decisions over time, so you can maintain the lifestyle that makes you who you are.
With myPKFiT you can:
View your estimated levels of FVIII anytime, anywhere
Keep track of the timing of bleeds and regular infusions
Log every event, including bleeds, missed treatments, and infusions
Export your data to share with your physician
List the events for each day that affect your FVIII levels
mPKFiT is only suitable for those ≥12 years of age and only for patients on one specific FVIII product. Talk to your doctor for more information.
Sign up and create a profile – you will need to scan a myPKFiT QR code that is provided by your healthcare professional within 30 days of its generation.